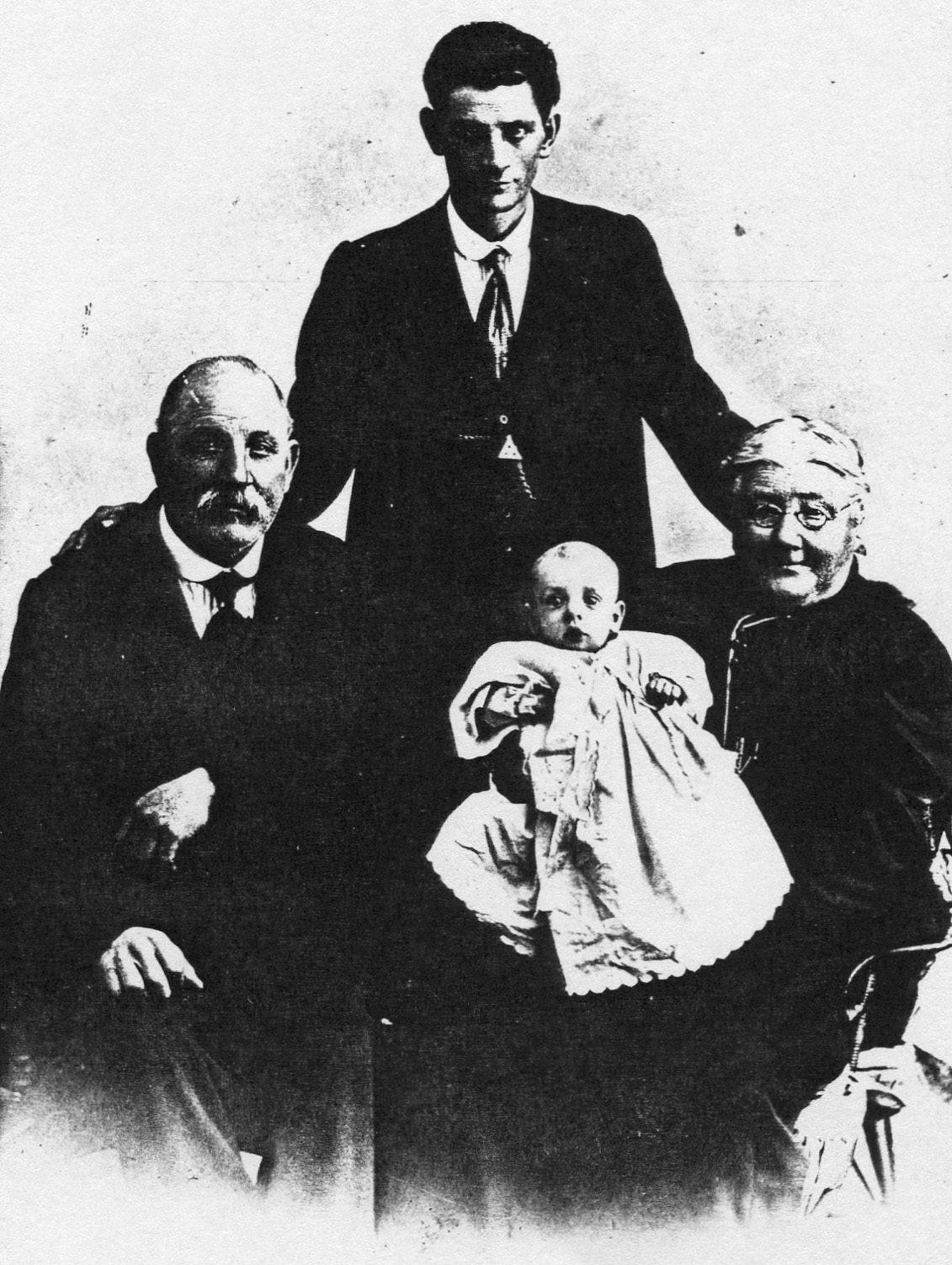 James Long – Family Tree
Sunday, January 12, 2020
---
CLICK HERE for James Long – Family Tree.
60-page PDF document
James Long – Family Tree
Prior to his untimely death in 1995, my uncle Alan C. Long compiled a family tree that detailed the generations that followed James Long, born in Ireland in 1830, and who settled in Australia in 1851. Where possible, this project lists dates of birth, marriage(s) and death, of each person. The index has 1897 individual entries, each manually processed.
The first version of the family tree was published in the 1983 edition of the family history, 'Nothing Without Labour', which I edited for Alan. He also published several updated versions prior to 1995.
Issues of the hard-copy versions of 'Nothing Without Labour' sold out decades ago. There have been many requests since for copies of this publication, which to date we have been unable to fulfill. Rather than embark upon the costly endeavour of publishing another print edition, we have now taken advantage of 21st Century technology, freely making available copies of the book on the internet at www.Long.com.au
Readers are at liberty to read the story free of charge, and freely print hard copies on their desk-top compters/printers should they wish.
This project has required the time-intensive commitment to re-type the text of the book, re-create the family tree, and produce a new version of the index. Women's names have been indexed by both maiden surname and married surname.
Times have changed since the first publication of this work in 1983. Privacy issues matter increasingly, and must be respected. There is a duty of care for security, especially owing to our youngest generations. Factors such as identity theft were hardly a consideration, 35 years ago. Many of these identity items have been widely published for years by others, especially on ancestory websites. However, we will adopt a conservative approach.
So, the work is divided into three parts:
• Nothing Without Labour. The narrative is freely available is six chapters at http://long.com.au/wordpress/?page_id=211
• Index to Family Tree. The index is freely available on our website (BELOW, on this page).
• Family Tree. The 60-page Family Tree is available on this website in PDF format, but is password-protected. The password is available free to qualifying family members by emailing ash@Long.com.au – we will promptly email a reply with the password. Once you have the password, go to the Family Tree at: http://long.com.au/wordpress/?p=317
The Family Tree entries are the work of the late Alan Long. Typographical errors are mine. We have not attempted to update the Family Tree entries beyond 1995, nor will we seek to do so. That task now falls to others.
– Ash Long, ash@Long.com.au
January, 2018
FAMILY TREE INDEX
Aalders, Gemma Louise. 22
Aalders, Julian Richard. 22
Aalders, Margaret Wendy. 22
Aalders, Richard Francis. 22
Allen, Alice Mary. 60
Anderson, Lynette Margaret. 45
Anderson, Nicole Marie. 45
Anderson, Terence Keith. 45
Anderson, Terrie Lynette. 45
Archer, Benjamin Robert. 57
Archer, Katie Lee. 57
Archer, Robert. 57
Aumont, Betty Jean. 19
Aumont, George Elisha. 19
Aumont, Jean Marie (formerly Long, later Ward). 19
Aumont, Kenneth George. 19
Baker, Clinton James. 53
Baker, Gerald Vivian. 53
Baker, Julie Maree. 53
Baker, Norma. 55
Baker, Pam. 53
Ball, Arthur (Jnr). 12.
Ball, Arthur (Snr). 12
Ball, Olivia Harriet. 12
Bastow, Edward John. 38
Bastow, Edward Ronald. 38
Bastow, Valma Kathleen. 38
Beacham, Grace Lila. 32
Beaumont, Albert Edward. 49
Beaumont, Anna Lee. 49
Beaumont, Avenel Annie. 49
Beaumont, Barbara Avenel. 49
Beaumont, Colin Edward. 20
Beaumont, Douglas Alexander. 49
Beaumont, Gladys Marguerite (later Burrows). 20
Beaumont, Grant Edward. 20
Beaumont, Jaye Anthony. 49
Beaumont, John Edward. 49
Beaumont, Lauren Kate. 49
Beaumont, Robyn Ann. 49
Beaumont, Sandra Marion. 49
Beaumont, Scott Andrew. 49
Beaumont, Suzanne. 20
Bechtold, Christine Louise. 9
Bechtold, Julienne Ann. 9
Bechtold, Werner. 9
Bingham, Allen Edward. 6
Bingham, Amanda Jane. 6
Bingham, Andrew David. 6
Bingham, Jamie Michael. 6
Bingham, Mary Ann. 6
Blackburn, Joel Peter. 50
Blackburn, Peter Norman. 50
Blackmore, Phyllis Rebecca. 11
Blatch, Jo-Anne Selina. 36
Blum, Gerhard. 55
Blum, Kathryn Mary. 55
Blunt, Barbara Phyllis. 53
Bohmeyer, Kelly Anne. 58
Bohmeyer, Kerry Lee. 58
Bohmeyer, Kim Michelle. 58
Bohmeyer, Kristy Marie. 58
Bohmeyer, Laurel Dawn. 58
Bohmeyer, Lorraine Ada. 58
Bohmeyer, Lynette Karen. 58
Bohmeyer, Malcolm Raymond. 58
Bohmeyer, Mavis Muriel. 58
Bohmeyer, Ralph Edward William. 58
Bohmeyer, Rhoda Kaye. 59
Bohmeyer, Trish. 58
Boylan, Geoffrey Francis. 32
Boylan, Susanne Marie. 32
Bradbury, Phyllis Frances Coverdal. 54
Bradney, Mark W. (Rev.) 3, 10
Branch, Cale William. 38
Branch, Hayleigh Michele. 38
Branch, Leonard Steven. 38
Brady, Denise Sidnee. 37
Brady, Glenn Robert. 37
Brady, Joanne. 37
Brady, Kenneth Robert. 37
Brady, Rose Evelyn. 27
Brady, Ross Kenneth. 37
Brady, Russell Scott. 38
Brady, Ryan Leigh. 37
Brady, Sheree Lee. 37
Bray, Hazel Lillian. 53
Brideson, Jennifer Lorraine. 5
Brideson, Jillian Frances. 5.
Brideson, John Francis 5.
Brideson, Nancy Grace Lorraine. 5
Bridges, Dorothy Minnie. 28
Bridges, Kevin. 28
Bridges, Paul Andrew. 28
Bridges, Stephen Mark. 28
Bridges, Timothy Scott. 28
Bridges, Vanessa Sarah. 29
Brissa, Godfrey George Charles. 60
Brissa, Janine Louisa. 60
Brissa, Renee Catherine. 60
Brissa, Rosalie Anne. 60
Brissa, Stacey Lee. 60
Broatch, Elizabeth. 4
Broatch Mary. 4
Broatch, William. 4
Broom, Adrian John. 45
Broom, Emily James. 45
Broom, Julie Rosanne. 45
Broom, Rupert James. 45
Broom, Terence John. 45
Brown, Deboran Anne. 51
Brown, Dellas Mary. 6
Brown, James Taylor. 6
Brown, John Robert. 51
Brown, Moira. 42
Brown, Sharon Diane. 6
Brown, Stephen Mark. 6
Browning, Donald. 38
Browning, Graham. 38
Browning, Kenneth Warren. 38
Browning, Thelma Florence. 38
Bull, Isobel. 24
Bullen, Allan Stephen. 14
Bullen, Elsie May. 14
Bullen, Ernest Stephen. 14
Bullen, Evelyn Frances. 14
Bullen, Joan Maree. 14
Bullen, Kate. 14
Bullen, Peter Stephen. 14
Bullen, Robert John. 14
Bullen, Ronald Ernest. 14
Bullen, Stephen Ralph. 14
Bullen, Wilma Frances. 14
Burdis, Roberta Joy. 56
Burnett, Barry James. 39
Burnett, Gloria Jean. 39
Burnett, Joanne Renae. 39
Burnett, Kerry Michelle. 39
Burnett, Steven James. 39
Burnett, Tracey Leanne. 39
Burns, Ashley Ruth. 1
Burns, Cameron Andrew. 41
Burns, Claudia Joy. 41
Burns, Harvey. 41
Burns, Patricia Margaret. 52
Burns, Shannon Maye. 52
Burns, Trevor Reginald. 52
Burrow, Brian Sydney. 38
Burrow, Irene May. 38
Burrow, Paul Graham. 38
Burrow, Stanley Athol. 38
Burrow, Stanley Robert. 38
Burrows, Milton Alan. 20
Butcher, Horace Noel. 28
Butcher, Nellie Florence. 28
Butcher, Noel Gerrard. 28
Butcher, Robyn Lesley. 28
Campana, Andre Carl. 50
Campana, Betty Dorothy. 50
Campana, Carlo Antonio. 50
Campana, Lisa Tania. 50
Campana, Peter Andrew. 50
Campana, Tania Louise. 50
Campbell, Lachlan David. 8
Campbell, Lenore Robyn. 8
Campbell, Marjorie. 12
Campbell, Neil Frederick. 8
Carter, Shirley Mary. 30
Cartwright, Felix Hector (Fred). 9
Cartwright, Tasma Elsie. 9
Cabolt, Dulcie May. 56
Cabsolt, Fay. 57
Casbolt, Gordon Alfred. 56
Casbolt, Joy. 56
Casbolt, Lois. 56
Casbolt, Merle. 56
Casbolt, Pamela. 57
Casbolt, Sandra. 57
Casey, Margaret Maude. 13
Cathcart, Helena Robina. 56
Catheral, Betty Joy. 37
Chandler, Cecily Loree. 9
Chapman, Yvonne. 34
Chenoweth, Sherrin Marjorie. 22
Childs, Betty Irene. 15
Clark, Donald Robert. 36
Clark, Frances Sophia Agnes. 35
Clark, Lynette Ann. 36
Clark, Minnie Robina. 34
Clark, Muriel Rose. 34
Clark, Patricia Kathleen. 36
Clark, Brian John. 36
Clark, Robert Dominic. 36
Clark, Samuel. 34
Clay, Althea Clara. 24
Colbert, James Edmond. 46
Colbert, Vesta Margaret. 46
Coldwell, Valerie. 40
Coleman, Robyn Lynette. 6
Collins, Carol Ann. 33
Collins, Mary Francis. 33
Coombe, Julie. 8
Coop, Lavinia Olivia. 5.
Cooper, Cedric Ralph. 44
Cooper, Donna Michelle. 57
Cooper, Elaine Roslyn. 44
Cooper, Fay. 57
Cooper, Jodee Nicole. 57
Cooper, Lesley Margaret. 4
Cooper, Mary Jane. 44
Cooper, Meagan Jeanette. 57
Cooper, Noel Victor. 44
Cooper, Richard Ronald. 57
Cooper, Ronald. 57
Cooper, Rosellen Mary. 44
Cooper, William Alfred. 44
Copley, Ceylene Elizabeth. 38
Copley, Ronald Charles. 38
Copley, Ronald William. 38
Copley, Valma Kathleen. 38
Craig, Alexandra Mary. 22
Craig, Andrew Thomas. 22
Craig, Jacqueline Kinnear. 21
Craig, James Gregory. 22
Craig, Kinnear Charles. 21
Craig, Pauline Gladys. 21
Craig, Sally Josephine. 22
Craig, Sherrin Marjorie. 22
Craig, Thomas Michael. 22
Cranny, Julie Ellen. 31
Cullen, Dora Patricia. 21
Cullen, Gladys Mary. 21
Cullen, Pauline Gladys. 21
Cullen, Thomas Edward. 21
Cummings, Roby Lesley. 28
Cunningham, Monica Theresa. 46
Dark, Tina. 25
Dart, Bryan Troy. 35
Dart, Lisa Marie. 35
Dart, Robyn Linley. 35
Dart, Ronald Gregory. 35
Davey, Cleveland Victor. 4
Davey, Evelyn Maude. 4
Davey, George James. 4
Davey, James Victor. 4
Davey, Jaythene Eve. 4
Davey, Jill Elva. 4.
Davey, Mark James. 4
Davidson, Karen. 13
Davidson, Kaye Evelyn. 13
Davidson, Paul Kenneth. 13
Davidson, Robert John. 13
Davies, Thelma. 11
Davis, Adele Therese. 52
Davis, Adrian Francis. 52
Davis, Alan Francis. 51
Davis, Christopher Peter. 47
Davis, Deborah Anne. 51
Davis, Ellen Scutcheon. 16
Davis, Florence Emily. 51
Davis, Francis Adam. 51
Davis, Gerard Denley. 52
Davis, Grace Ellen. 52
Davis, Gregory Mark. 47
Davis, Hannah May. 51
Davis, Helen Margaret. 52
Davis, Helene. 51
Davis, John Maurice. 52
Davis, Jonathan Francis. 51
Davis, Joy Mary. 47
Davis, Lorna Ethel. 47
Davis, Lynette Frances. 52
Davis, Margaret Dorothy. 52
Davis, Matthew Jonathan. 51
Davis, Meredith Louise. 52
Davis, Michael Robert. 47
Davis, Norman John. 51
Davis, Patricia Margaret. 52
Davis, Robert Francis. 47
Davis, Robert Maxwell. 47
Davis, Stephen Bruce. 51
Davis, Susan Elizabeth. 52
Davis, Suzanne Margaret. 47
Deering, Jonathan James. 6
Deering, Sharon Diane. 6
Deering, Vaughan Eric. 6
Del Frate, Debbie Janice. 58
Del Frate, Mauro. 58
Delandgraft, Dorothy Helen. 55
Dell, Tania Elaine. 27
Desailly, Helen Maree. 11
Desnoy, Christine Kaye. 11
Dewar, Elissa Kate. 49
Dewar, Peter James. 49
Dewar, Roslyn. 49
Dewar, Simon James. 49
Dipell, Jillian Frances. 5
Dipell, Neville. 5
Dipell, Sally Anne. 5
Dipple, Barbara Noel. 33
Dixon, Mary Jane. 44
Dodman, Alys Lesley. 32
Dodman, Carole Lesley. 32
Dodman, Garry John. 32
Dodman, Grace Lila. 32
Dodman, Lesley John. 32
Dodman, Mona Beatrice. 32
Dodman, Rowland John. 32
Donegan, Chelsea Renee. 36
Donegan, Ellen Joy. 36
Donegan, Gregory Raymond. 36
Donegan, Paul Raymond. 36
Doran, Margaret. 28
Dovaston, Allyson. 29
Dovaston, Christine Beverley. 29
Dovaston, Karen. 29
Dovaston, Raymond Francis. 29
Dovaston, Simon. 29
Downes, Elizabeth Joy. 5
Doyle, Janet Carmel. 8
Ducas, Jo-Anne Selina. 36
Duff, Gabrielle Dorcas. 24
Duff, Jessica Emily. 24
Duff, William Ervine. 24
Duffel, Mary Ann. 12
Dyer, Leslie. 22
Dyer, Tamsyn Leonie. 22
Dyer, Thomas Edward. 22
Eaton, Amanda. 38
Eaton, Cheryl Anne 38.
Eaton, Gemma Bronwyn. 24
Eaton, Gene Arthur. 24
Eaton, Jackson Lawlor. 24
Eaton, Jesse. 38
Eaton, John Michael. 24
Eaton, Trevor. 38
Edwards, Sarah Marion Eileen Florence. 19
Eldridge, Alfred William (1892-1982). 27
Eldridge, Alfred William (1922-1948). 28
Eldridge, Debra Noella. 28
Eldridge, Denise Rosanne. 28
Eldridge, Dorothy. 28
Eldridge, Dorothy Minnie. 28
Eldridge, Erica Jan.e 28
Eldridge, Janet Ann. 28
Eldridge, Joyce Teresa. 28
Eldridge, Judith. 28
Eldridge, Kathleen. 28
Eldridge, Keith. 28
Eldridge, Margaret. 28
Eldridge, Minnie Elizabeth. 27
Eldridge, Nellie Florence. 27
Eldridge, Noel Mark. 28
Eldridge, Phyllis Alfreda. 27
Eldridge, Robert John. 28
Eldridge, Robert Thomas. 28
Eldridge, Scott Andrew. 28
Eldridge, Thomas Arthur. 28
Eldridge, Thomas Bradley. 28
Eldridge, Trevor John. 28
Elford, Daryl William. 7
Elford, Kristy Lee. 7
Elford, Lauren Kate. 7
Elford, Mark Douglas. 51
Elford, Olivia Jane. 7
Elford, Sharon Lee. 51
Elford, Susan Kerry. 7
Ellett, Michael Cheverton. 21
Ellett, Susan Iris. 21
Ellis, Cora- Lynn. 13
Ellis, Kate. 14
Ellis, Yvonne Jean. 59
Emberson, Cheryl Desire. 36
Emberson, Craig Stewart. 36
Emberson, Donald John. 36
Emberson, Ellen Joy. 36
Emberson, Graham Robert. 37
Emberson, John Donald. 36
Emberson, Kenneth Philip. 37
Emberson, Kerry Danielle. 36
Emberson, Lorraine Mavis. 36
Emberson, Mavis. 36
Entwistle, Gertrude May. 59
Evans, Eva. 26
Evans, Kathryn Lesley. 32
Evans, Michael William. 32
Facy, Sandra Ellen. 27
Fader, Nina Jane. 23
Ferguson, Frances Jean. 59
Firmin, Yvonne Helene. 31
Fleming, Ernest William. 25
Fleming, Jasmin. 25
Fleming, Jemma. 25
Fleming, Jo-Anne. 25
Fleming, John William. 25
Fleming, Noel Ernest. 25
Fleming, Stephanie Jane. 25
Fleming, Violet Althea. 25
Flows, Violet May. 30
Francis, Elsie June Saul. 31
Franck, Robert John. 40
Franck, Roslyn Strangways. 40
Fraser, Elsie Joyce. 26
Frazer, Betty Pamela. 17
Frazer, Clarice Rita. 16
Frazer, David Eric. 17
Frazer, Eric James Lindsay. 16
Frazer, Eric Lindsay. 16
Frazer, Ian Lindsay. 17
Frazer, John Clive. 17
Frazer, Kathryn Jill. 17
Frazer, Malcolm James. 17
Frazer, Phyllis Elaine. 16
Fromm, Adolph Murray. 60
Fromm, Adrian Paul. 60
Fromm, Darryl John. 60
Fromm, Evelyn Joyce. 60
Fromm, Graham Murray. 60
Fromm, Heather Lorraine. 60
Fromm, Justin Graham. 60
Fromm, Shane Andrew. 60
Garner, Darren Keith. 7
Garner, Emily Grace Spiers. 7
Garner, Leeane Barbara. 7
Gecas, Rhiana Alexandra. 30
Gecas, Shirley Alexandra. 30
Gecas, Viktor Valentin. 30
Gibbens, Jennifer Lynn. 33
Gibbens, Lance Graham. 33
Gilbert, Frederick John. 15
Gilbert, Melissa Jane. 15
Gilbert, Pamela Ann. 15
Giles, Annie Phyllis Ellen. 14
Glenhill, Pam. 53
Glenhill, Stephen Joseph. 53
Godling, Joy. 33
Goodridge, Alan Richard. 53
Goodridge, Barbara Phyllis. 53
Goodridge, Daphne Wantha. 53
Goodridge, Deidre Mae. 53
Goodridge, Fiona Jane. 53
Goodridge, Geoffrey Lawrence. 53
Goodridge, Georgina Anne. 53
Goodridge, Hazel Lillian. 53
Goodridge, Horace Reginald. 53
Goodridge, Kean. 53
Goodridge, Laurence George. 53
Goodridge, Lawrence Raymond. 53
Goodridge, Letetia May. 53
Goodridge, Michelle Helen. 53
Goodridge, Mildred Patricia. 53
Goodridge, Pam. 53
Goodridge, Phuillip Lawrence. 53
Goodridge, Susan Edna. 53
Goodridge, William. 53
Graham, Ella Currith. 7
Graham, Mary. 54
Gray, Margaret Dorothy. 52
Gray, Michael William. 52
Green, Darren Phillip. 59
Green, Glenda. 59
Green, Kenneth Leslie. 59
Green, Kym Lynette. 60
Green SAtuart Andrew. 59
Greenwood, Dianne Elizabeth. 7
Greenwood, Fiona Elizabeth. 7
Greenwood, Mary Wynstan. 7
Greenwood, Peter Rowland. 7
Greives, Christine Ann. 30
Greives, Donald James. 30
Greives, Mavis Jean. 30
Greives, Neil James. 30
Grey, Angus Cheverton. 21
Grey, Campbell Ainsworth. 21
Grey, Duncan George. 21
Grey, Lachlan Gardiner. 21
Grey, Theresa Kathleen. 21
Griffiths, Florence Emily. 51
Grover, Damian John. 39
Grover, Robert John. 39
Grover, Simon Peter. 39
Grover, Susan Kathleen. 39
Grover, Wayne Robert. 39
Gunning, Gail. 31
Haase, Victoria Elizabeth. 8
Haby, Lawrence Victor. 51
Haby, Mathew Ronald. 51
Haby, Michelle Susan. 51
Haby, Sharon Lee. 51
Haby, Stuart Paul. 51
Haby, Valerie Isabel. 51
Hall, Amber Jade. 57
Hall, Arthur. 38
Hall, Ian. 57
Hall, Jason Ian Alexander. 57
Hall, Michelle Robyn. 54
Hall, Renai Simone. 57
Hall, Richard Laughton. 54
Hall, Sandra. 57
Hall, Thelma Florence. 38
Hames, Duncan Hawkins.. 41
Hames, Gareth Hawkins. 41
Hames, Phillip Jeffrey. 41
Hames, Wendy Margaret. 41
Hames, Zerida Zoe. 41
Hamilton, Bryony Jane. 23
Hamilton, Jessamy Doris. 23
Hamilton, Kester Ronald. 23
Hamilton, Roberta Doris. 23
Hamilton, Stephen. 23
Handasyde, Dora Alexandra. 19
Harmon, Wilma Frances. 14
Harris, Barbara Yvonne. 19
Harris, Eliza. 16
Harris, Joseph. 16
Harris, Minnie. 16
Harrop, Valda Jessie Frances. 34
Hartley, Carole Lesley. 32
Hartley, Julie. 32
Hartley, Mark. 32
Hartley, William. 32
Harvey, Cheryl Joy. 32
Haupt, Julie Ann. 6
Hawkins, Aaron. 35
Hawkins, Amanda Yvonne. 34
Hawkins, Cari-Lyne. 35
Hawkins, Chloe Michele. 35
Hawkins, Christine. 35
Hawkins, Clinton Peter. 35
Hawkins, Crystal. 35
Hawkins, David Leslie. 35
Hawkins, Donald Charles. 34
Hawkins, Graham Lindsay. 14
Hawkins, James. 35
Hawkins, Janice Flora Hazel. 14
Hawkins, John Bradley. 14
Hawkins, Joseph Charles. 34
Hawkins, Kellie Jean. 35
Hawkins, Linda. 35
Hawkins, Melanie Robina. 35
Hawkins, Michele. 35
Hawkins, Muriel Rose. 34
Hawkins, Peter Edward. 35
Hawkins, Ryan Mark. 35
Hawkins, Samuel George. 35
Hawkins, Stewart Donald. 34
Hawkins, Yvonne. 34
Healey, Grace Ellen. 52
Hearn, Glenice Emilie. 7
Hearn, Christine Helen. 7
Hearn, Donna Elise. 7
Hearn, Leonard Glenn. 7
Hearn, Roderick Stuart. 7
Hearn, Stephen Rennie. 7
Hearn, Walter Henry. 7
Heidenreich, Brett Earl. 26
Heidenreich, Drew Lindsay. 26
Heidenreich, Heather Joyce. 26
Heidenreich, Kym Hopetoun. 26
Hellyar, Frances Louisa. 8
Hellyar, Lewis Thomas Richard. 9
Hellyar, Margaret. 8
Hellyar, Richard. 8
Hellyar, Thomas. 8
Hellyar, William Leslie. 8
Hellyer, Mavis Frances. 8
Hellyer, Norman Victor Auburn. 8
Hellyer, Victoria Elizabeth. 8
Henderson, David John. 44
Henderson, Kirk William. 23
Henderson, Lionel James. 23
Henderson, Murray Stewart. 23
Henderson, Nina Jane. 23
Henderson, Penelope Mariette. 23
Henderson, Peter Gregory. 23
Henderson, Peter Leonard. 23
Henderson, Prudence Helena. 23
Henderson, Stephanie Frances. 44
Henderson, Zoe Suzanne. 23
Hennessy, Benjamin Michael James. 41
Hennessy, Frances Margot. 41
Hennessy, James Rowan. 41
Hennessy, Margot Longley. 41
Hennessy, Michael. 41
Hickey, Catherine. 44
Hill, Alan Donald. 59
Hill, Alan John. 58
Hill, Albert John. 56
Hill, Albert Wilgur. 57
Hill, Alice Mary. 60
Hill, Alison Yvonne. 59
Hill, Annie Rosalene. 48
Hill, Annie Sarah. 48
Hill, Barbara Ruth. 59
Hill, Beverley Rae. 58
Hill, Christine. 51
Hill, Debbie Janice. 58
Hill, Denise. 59
Hill, Dennis Charles. 59
Hill, Desmond Laurence. 50
Hill, Dorothy. 59
Hill, Duclie May. 56
Hill, Edith, Jean. 56
Hill, Edward. 59
Hill, Edwin. 43-
Hill, Edwin Charles (1863-1887). 46
Hill, Edwin Charles (1887-1889). 48
Hill, Edwin Charles (1887-1970). 59
Hill, Edwin Victor. 50
Hill, Emily Kate. 50
Hill, Emily May. 58
Hill, Ethel Jane. 46
Hill, Evelyn Joyce. 60
Hill, Fanny Louisa. 55
Hill, Frances Jean. 59
Hill, Gertrude May. 59
Hill, Glenda. 59
Hill, Graham Edward. 50
Hill, Hannah (nee Patton). 43
Hill, Hannah Eliza (1869-1891). 51
Hill, Helen Elizabeth. 59
Hill, Helen Violet. 50
Hill, Helena Robina. 56
Hill, Henry. 43
Hill, James (1955-). 51
Hill, James Henry. 48
Hill, James William. 48
Hill, Jean Lesley. 58
Hill, Jennifer. 59
Hill, Joyce Evelyn. 57
Hill, Kenneth Charles. 59
Hill, Kenneth Victor. 40
Hill, Lawrence Edwin. 50
Hill, Leon Victor. 50
Hill, Lois Joy. 57
Hill, Lynette Karen. 58
Hill, Madge Lucy. 59
Hill, Margaret. 46, 47
Hill, Margaret (nee Treleor). 51
Hill, Marie. 59
Hill, Mary Amelia. 54
Hillm, Mavis Muriel. 58
Hill, Michelle Atlay. 50
Hill, Mollie Florence. 50
Hill, Patricia Moria. 50
Hill, Percival James. 48
Hill, Reginald William. 59
Hill, Robert. 51
Hill, Robert Alan. 59
Hill, Rodney Lyle. 58
Hill, Ronald. 51
Hill, Rosalie Anne. 60
Hill, Rose Ellen. 44
Hill, Ross Brendan. 58
Hill, Sarah Anne. 24
Hill, Sarah Patterson. 48
Hill, Scott Rampton James. 50
Hill, Shane Kyle. 58
Hill, Sophie Jane. 50
Hill, Sumiati. 59
Hill, Susan Edna. 53
Hill, Terence Edwin. 59
Hill, Terry William. 50
Hill, Yvonne Jean. 59
Hiller, Edna Isabel. 56
Hiller, Jill. 56
Hiller, John. 56
Hindson, Alison Yvonne. 59
Hindson, Campbell. 59
Hindson, Colin. 59
Hindson, Jane. 59
Hislop, Sheryl. 22
Hite, Harold Stephen. 8
Hite, John Tasman. 8
Hite, Julie. 8
Hite, Kirrily. 8
Hite, Margaret Elizabeth. 8
Hite, Mavis Frances. 8
Hite, Naomi. 8
Hite, Norman Harold. 8
Hodges, Joce Evelyn. 57
Hodson, Marina. 31
Hogan, Mollie Florence. 50
Holmes, Constance Valma. 54
Holmes, Francis. 54
Holmes, Frank. 54
Holmes, Gayle Elizabeth. 27
Holmes, Keith Oliver. 27
Holmes, Luke Samuel. 27
Holmes, Rebekah Joy. 27
Holmes, Sherryn. 54
Hopgood, Joyce Teresa. 28
Hoskin, Carol Joanne. 52
Howard, Mildred Patricia. 53
Howlett, Stella Grace. 32
Hughes, David. 30
Hughes, Matilda (nee Price). 30
Hughes, Matilda (1873-1937). 30
Hunt, Barry James. 55
Hunt, Edward John Keith. 55
Hunt, Eileen. 55
Hunt, Elizabeth. 55
Hunt, Kathryn Mary. 55
Hunt. Leslie James. 55
Hunt, Lilian May. 55
Hunt, Patricia Mary-Anne. 55
Hunt, William Edward. 55
Hunter, Emily. 4
Hyams, Brian John. 56
Hyams, Donna Michelle. 55
Hyams, Gregory Ronald. 55
Hyams, Jared. 55
Hyams, Joanna Faye. 55
Hyams, Julianne. 55
Hyams, Meredith Joy. 56
Hyams, Neil Robert. 55
Hyams, Nicola Jane. 56
Hyams, Norma. 55
Hyams, Owen Philip. 55
Hyams, Philip. 55
Hyams, Roberta Joy. 56
Hyams, Ronald Philip. 55
Hyams, Sylvia Doris. 55
Ierardo, Abrano. 29
Ierardo, Anne Cecilia. 29
Ingham, Doreen May. 46
Ingham, Howard Wilton Robinson. 46
Jack, Frances Mitchell. 46
Jamieson, Belinda Louise. 23
Jamieson, Peri Megan. 23
Jamieson, Rachel Alisa. 23
Jamieson, Raymond Eric. 23
Jayne, Edward James. 51
Jayne, Hannah May. 51
Jayne, Muriel May. 51
Jeffrey, Bruce. 14
Jepsen, Darren Matthew. 48
Jepsen, Dean Alexander. 48
Jepsen, Deboran Norelle. 48
Jepsen, Elmo Valdemar. 48
Jepsen, Graeme James. 48
Jepsen, Lorna Jocelyn. 48
Jepsen, Rosa Marie. 48
Jepsen, Valerie Gwenneth. 48
Jolley, Ann Christine. 46
Jones, Arthur William Thomas. 11
Jones, Benjamin Timothy. 11
Jones, Bradley Wayne. 29
Jones, Brent Travers. 59
Jones, Brett Andrew. 11
Jones, Bronwyn Olivia. 12
Jones, Clarence Leonard. 29
Jones, Christine Kaye. 11
Jones, Craig Charles. 59
Jones, Dallas James. 12
Jones, Danielle Kay. 50
Jones, David Arthur. 11
Jones, Edna Isabel. 56
Jones, Elizabeth. 12
Jones, Eliza Jane. 11
Jones, Fanny Louisa. 55
Jones, Gayle Maree. 49
Jones, Glenyce Elizabeth. 12
Jones, Graeme Anthony. 29
Jones, Helen Anne. 11
Jones, Helen Maree. 11
Jones, Herbert Charles. 11
Jones, Hester Jane. 11
Jones, Jack Kenneth. 49
Jones, Janine Kathlene. 29
Jones, Joan Valerie. 49
Jones, John. 55
Jones, Karen Louise. 49
Jones, Kathryn Anne. 11
Jones, Keith. 56
Jones, Lara Maree. 49
Jones, Lilian May. 55
Jones, Margaret Irene. 29
Jones, Natalie Maree. 11
Jones, Olivia Maria. 11
Jones, Paul Brendan. 59
Jones, Phillip Donford. 11
Jones, Phyllis Rebecca. 11
Jones, Rachael Louise. 11
Jones, Rhonda Kaye. 59
Jones, Samantha Anne. 11
Jones, Scott William. 12
Jones, Sheridan Lee. 59
Jones, Sian Rebecca. 11
Jones, Stephen Vere Charles. 11
Jones, Steven William. 49
Jones, Susanne Florence. 11
Jones, Sylvia Doris. 55
Jones, Thelma. 11
Jones, Thomas. 11
Jones, Vere Charles. 11
Jubb, Cris. 24
Jubb, Kathryn Denise. 24
Kaigg, Elspeth Mary. 54
Kaigg, Elsepth Wendy. 55
Kaigg, Helen. 54
Kaigg, William James. 54
Keif, Lillie May. 12
Kempten, Joanne Maria. 31
Kennedy, Brent Travis. 29
Kennedy, Jason Scott. 29
Kennedy, Mark Andrew. 29
Kermond, Denis Francis. 49
Kermon, Karen Louise. 49
Kerrison, Thelma Shirley. 45
Kilpatrick, Daphne. 33
King, Damon Gordon. 5
King, Gordon Robert. 5
King, Jillian Frances. 5
King, Justin John. 5
Kipper, Gilbert Charles. 54
Kipper, Helen. 54
Kipper, Michelle Robyn. 54
Kirk, Bryan John. 54
Kirk, Darryl Edwin. 54
Kirk, Desmond John. 54
Kirk, Gwendoline Mary. 54
Kirk, Ian Desmond. 54
Knight, Phyllis Evelyn. 22
Knowler, Margaret. 46
Kosis, Eva. 16
Lambert, Ann. 3
Lambert, Michele. 35
Lawlor, Diana Marguerite. 23
Lawlor, Elizabeth Ann. 30
Lawlor, Gabrielle Dorcas. 24
Lawlor, Gemma Bronwyn. 24
Lawlor, Joanna Brooke. 23
Lawlor, Leslie. 23
Lawlor, Peri Megan. 23
Lawrence, Marjory Norah. 24
Leake, Elizabeth Ann. 30
Letoga, Kesia. 44
Letts, Julie Kay. 33
Letts, Mark Gerard. 33
Lewis, Robyn Ann. 49
Lilly, Lorraine Margaret. 31
Lishman, Noela Eadith. 12
Long, Adam Alfred. 24
Long, Agnes Mary. 24
Long, Alan Charles. 25
Long, Alan Leonard. 25
Long, Albert Ernest. 9
Long, Alfred Charles Samuel. 15
Long, Alfred James. 12
Long, Alice Maude. 9
Long, Allan Leslie. 24
Long, Althea Clara. 24
Long, Andrew John. 26
Long, Andrew Leslie. 16
Long, Anne Patricia. 25
Long, Arthur Henry. 24
Long, Ashley Lawrence. 25
Long, Barbara. 24
Long, Barbara Joyce. 26
Long, Barry Kevin. 40
Long, Benjamin. 43
Long, Bernard Theo. 31
Long, Beryl Doris. 39
Long, Betty Irene. 15
Long, Beverley Elizabeth. 40
Long, Beverley June. 25
Long, Brendan Phillip. 31
Long, Brett Philip. 17
Long, Bruce Fraser. 26
Long, Caitlin Anne Majella. 25
Long, Carmel May. 20
Long, Cecily Loree. 9
Long, Charles Edward. 19
Long, Christopher James (1978-). 17
Long, Christopher James (1977-). 30
Long, Christopher Keith. 20
Long, Christopher Robert. 17
Long, Clarice Rita. 16
Long, Colin Robert. 15
Long, Colleen Elizabeth. 27
Long, Daniel Gerard James. 25
Long, David James. 30
Long, Debbie. 9
Long, Debra Joanne. 4
Long, Denise Ann. 31
Long, Denise Margaret. 24
Long, Dianne Maree. 31
Long, Donna Maree. 20
Long, Dora Alexandra. 19
Long, Doreen Maud Strangways. 40
Long, Doris Minnine Helena. 22
Long, Edith Anne. 9.
Long, Eileen Florence. 20
Long, Eileen May. 20
Long, Eliza. 3
Long, Eliza Ann. 4
Long, Elizabeth (1842). 43
Long, Elizabeth (nee Broatch). 4
Long, Elizabeth (nee Jones). 12
Long, Elizabeth Ann. 30
Long, Elizabeth Germaine (nee Robinson). 9
Long, Ellen Scutcheon. 16
Long, Elsa Graham. 9
Long, Elsie Joyce. 26
Long, Elsie June Saul. 31
Long, Elsie May. 14
Long, Emily Selena. 6
Long, Eric Rowland Handsayde. 24
Long, Ernest Thomas. 15
Long, Eva (nee Kosis). 16
Long, Eva (1897-1949). 26
Long, Eveline Maud. 14
Long, Evelyn Maude. 4
Long, Fleur Marian. 25
Long, Florence Amelia Lucas. 13
Long, Florence Anne. 15
Long, Florence Rose. 35
Long, Frances Edna. 29
Long, Frances Louisa. 8
Long, Francis L:eslie. 39
Long, Fraser Bruce. 26
Long, Gail. 31
Long, Gary Peter. 31
Long, Gary Reginald. 40
Long, George. 4, 43
Long, George Oliver. 4
Long, George Walter (1865-1940). 4
Long, George Walter (1943-). 4
Long, George William (1923-). 20
Long, Gladys (1919-). 15
Long, Gladys Mary (1890-1979). 21
Long, Gladys Marguerite. 20
Long, Glenn Andrew. 4
Long, Glenyce Elizabeth. 12
Long, Graham Edward. 9
Long, Glenys Yvonne. 30
Long, Graeme Francis. 40
Long, Graham Leslie. 15
Long, Graham Stuart. 26
Long, Gregory James. 25
Long, Gwenneth Evelyn. 27
Long, Harold James. 26
Long, Harold Matthew. 26
Long, Harriet Caroline. 12
Long, Hazel Maude. 4
Long, Heather Joyce. 26
Long, Heather Tracey. 40
Long, Heidi Dorothy. 26
Long, Helen Kay. 26
Long, Henry. 8
Long, Heather Joy. 15
Long, Hilda May. 30
Long, Horace Edward. 40
Long, Ian Charles. 40
Long, Isobel. 24
Long, Jacob Andrew. 26
Long, James (1830-1916). 3
Long, James (1922). 26
Long, James (Snr. Tutor). 3
Long, James Goldsmith. 12
Long, James Matthew. 26
Long, James Reginald. 39
Long, James Wilcock. 24
Long, James William Tunzi. 25
Long, James Murray. 24
Long, Jean Marie (later Aumont, later Ward). 19
Long, Jeanette Suzanne. 27
Long, Jeffrey Harold. 16
Long, Jeffrey Lance. 27
Long, Jennifer Anne. 30
Long, Jennifer Gillian. 25
Long, Joanne Maria. 31
Long, Jodi Irene. 16
Long, John Albert. 20
Long, Joseph (c 1836). 43
Long, Joseph Alfred. 15
Long, Josephine Victoria. 20
Long, Joshua David. 26
Long, Joyce Eleanor. 9
Long, Joyce Elizabeth. 16
Long, Julie Ann (1954). 15
Long, Julie Ann (1977-). 30
Long, Julie Strangways. 40
Long, Julienne Ann. 9
Long, Kate Florence. 39
Long, Keith Charles Stuart. 20
Long, Keith Ian. 20
Long, Keith Longwood. 19
Long, Kenard Graham. 9
Long, Kevin Thomas. 40
Long, Kerrie Anne. 26
Long, Kieran Michael Bede. 25
Long, Kristen Yvonne. 31
Long, Kristi Fleur. 25
Long, Kyle Nicole. 4
Long, Laura Elizabeth. 16
Long, Lauren Rene. 31
Long, Lawrence Raymond Francis. 30
Long, Lavinia Olivia. 5
Long, Leanne Marie. 30.
Long, Leslie James. 42
Long, Lillie May. 12
Long, Linda. 24
Long, Lorraine Margaret. 31
Long, Lucy. 3
Long, Lucy Lavinia (1908-). 5
Long, Lynette June. 20
Long, Lynn Lesley. 40
Long, Mandy Robyn. 26
Long, Marion Handasyde. 19
Long, Margaret Allen Lorraine. 4
Long, Margaret Kathleen. 15
Long, Marie Cecily. 9
Long, Marina. 31
Long, Marjorie (nee Campbell). 12
Long, Marjory Norah. 24
Long, Marjory Rita. 6
Long, Mark Leslie. 40
Long, Mary (nee Broatch) 4.
Long, Mary Ann. 12
Long, Mary Elizabeth. 19
Long, Mary Jane (1857-1941). 11, 19-
Long, Matilda. 30
Long, Mavis. 36
Long, Melissa Alison. 40
Long, Melody Sue. 26
Long, Michelle Anne. 17
Long, Minnie (1863-1940). 16
Long, Minnie Elizabeth (1897-1970). 27
Long, Minnie Robina. 34
Long, Mona Beatrice. 32
Long, Nancy Grace Lorraine. 5
Long, Nathan Matthew. 31
Long, Nicole Michelle. 31
Long, Norma Joy. 31
Long, Norman Harris. 17
Long, Olive. 17
Long, Olivia Eliza. 17
Long, Olivia Harriet. 12
Long, Olivia Maria. 11
Long, Pamela Ann. 15
Long, Patrick Joseph Gregory. 25
Long, Paul Anthony. 31
Long, Pauline Strangways. 40
Long, Peter Thomas. 15
Long, Philip Anthony. 17
Long, Phillip Stanley. 31
Long, Raymond Francis. 30
Long, Reginald Leslie. 40
Long, Ricky Matthew. 26
Long, Robert Douglas, 26
Long, Robert George, 39
Long, Robert Thomas. 34
Long, Robyn Jean. 26
Long, Ronald David. 30
Long, Ronda Ann. 27
Long, Rose Mary Ethel. 9
Long, Roland Cragg. 30
Long, Ronald Frederick James. 30
Long, Rosanna. 34
Long, Roslyn Strangways. 40
Long, Rowland Theophilus. 30
Long, Ruby Edna. 4
Long, Sarah Anne. 24
Long, Sarah Frances. 41
Long, Sarah Margaret. 20
Long, Sarah Marion Eileen Florence. 19
Long, Shayne Barry. 40
Long, Shayne Bernard. 31
Long, Shirley Alexandra. 30
Long, Shirley Mary. 30
Long, Shiley (nee Mott). 40
Long, Stuart Grant. 27
Long, Susan (1839-1921). 43-
Long, Susan Dorothy. 26
Long, Susan Lorraine. 15
Long, Suzanne Lee. 26
Long, Sylvia Rose. 9
Long, Tasma Elsie. 9
Long, Terence Bernard. 31
Long, Thomas Percy (1861-1945). 16
Long, Thomas Percy (1895-1902). 15
Long, Timothy Francis Xavier. 25
Long, Trevor. 15
Long, Trevor Lance. 27
Long, Valda Lillian. 40
Long, Vera Harriet. 16
Long, Vernon Alfred. 12
Long, Vernon Percy. 16
Long, Victor Whitford. 12
Long, Vicktoria. 15
Long, Violet Althea. 25
Long, Violet Emmaline. 24
Long, Violet May (nee Flows). 30
Long, Violet May Whitford. 12
Long, Vivienne Aubrey Edith. 24
Long, Warwick Robinson. 15
Long, Wayne. 15
Long, William (1827-1899). 3
Long, William Edwin. 11
Long, William Herbert. 9
Long, Yvonne Helene. 30
Longmire, Betty Irene. 29
Longmire, Christine Beverley. 29
Longmire, David Raymond. 29
Longmire, David Stanley. 29
Longmire, Keith William. 29
Longmire, Margaret Irene. 29
Longmire, Nellie Florence. 29
Longmire, Peter John. 29
Lord, Anna. 13
Lord, Annie Phyllis Ellen. 14
Lord, Barry James. 13
Lord, Beryl Lesley. 14
Lord, Cora-Lynn. 13
Lord, Florence Amelia Lucas. 13
Lord, Graeme John. 13
Lord, Heather Amelia. 14
Lord, James Edward. 13
Lord, Jane. 13
Lord, Janice Flora Hazel. 14
Lord, Jason Michael. 13
Lord, Jessica Louise. 13
Lord, Jo-Ann Rae. 13.
Lord, John Phillips. 13
Lord, Kaye Evelyn. 13
Lord, Kerrie Ann. 13
Lord, Kevin Frederick. 13
Lord, Kylie Patricia. 13
Lord, Leanne Marie. 13
Lord, Linda Patricia. 13
Lord, Margaret Annie. 33
Lord, Margaret Maude. 13
Lord, Melanie Joy. 13
Lord, Muriel Josephine. 13
Lord, Robert. 13.
Lord, Robert James. 13
Lord, Robert Pulman. 13
Lord, Russell Leslie. 13
Lord, Thomas Henry. 14
Lord, William Joseph. 13
Lording, Dannielle Louise. 31
Lording, Denise Ann. 31
Lording, Rhodney Walter .31
Lucas, Margaret. 10
Lucas, Olivia. 10
Lucas, Thomas. 10
Luckman, Judith. 10
Lynch, Alys Lesley. 32
Lynch, Cheryl Joy. 32
Lynch, Christine Joy. 32
Lynch, David Martin. 32
Lynch, Janice Anne. 32
Lynch, Kathryn Lesley. 32
Lynch, Martin. 32
Lynch, Michael James. 32
Lynch, Michael John. 32
Lynch, Patrick Martin. 32
Lynch, Paul Gerard. 32
Lynch, Stella Grace. 32
Lynch, Susanne Marie. 32
Macey, Dianne Amelia. 41
Mack, Christine Anne. 45
Mack, Michelle Ellen. 45
Mack, Stephen William 45
Mack, Susan Anne. 45
Madill, Debra Anne. 45
Mai, Alan Gordon. 5
Mai, Hayden Dean. 5
Mai, Jonathan Alan. 5
Mai, Marilyn Anne 5.
Mai, Trudy Anne. 5
Mallis, Deborah Ann. 16
Mallis, Laura Rose. 16
Mallis, Robert. 16
Mangan, Helen Margaret. 52
Manning, Lynn Lesley. 40
Manuell, Florrie. 48
Manuell, Henry William. 48
Manuell, John. 48
Manuell, Margaret. 48
Manuell, Victor Henry William. 48
Marchesi, Joel Nicholas. 27
Marchesi, Lester Thomas. 27
Marchesi, Lexie Anne. 27
Marchesi, Mark Lester. 27
Marchesi, Sandra Ellen. 27
Marchetti, Clifford Arthur. 16
Marchetti, Krista Marie. 16
Marchetti, Sharon Elizabeth. 16
Marchetti, Scott Baptista. 16
Marshall, Rose Mary Ethel. 9
Martin, Anthony Lesley. 58
Martin, Daniel James. 44
Martin, Graeme Leigh. 44
Martin, Helen Anne. 11
Martin, Kate Rebecca. 58
Martin, Kesia. 44
Martyin, Laurel Dawn. 58
Martin, Lisa Nicole. 58
Martin, Philip James. 44
Martin, Ronald James. 44
Martin, Rosellen Jess Blanche. 44
Martin, Seona Ann. 44
Martin, Stephanie Frances. 44
Martin, Susan Lee. 58
Maunder, Elizabeth Jennifer. 5
Maunder, James Douglas. 5
Maunder, Jennifer Lorraine. 5
Maunder, Richard James. 5
Mayne, Alan Norman. 49
Mayne, Helen Lorraine. 49
McBride, Fay Winifred. 49
McCaskill, Jeffrey Neil. 15
McCaskill, Neil. 15
McCaskill, Sharon. 15
McCaskill, Susan Lorraine. 15
McDermott, Kerrie Ann. 13
McDonald, Joyce Isobel. 55
McDowall, Anne Cecilia. 29
McDowall, Anthony James. 30
McDowall, Arthur Henry. 30
McDowall, Charles George. 29
McDowall, Elizabeth Ann. 30
McDowall, Frances Edna. 29
McDowall, George Charles. 29
McDowall, Gregory Charles. 29
McDowall, Jennifer Mary. 30
McDowall, Lorna. 29
McDowall, Mavis Jean. 30
McFadyen, Alexandra Craig. 22
McFadyen, Ian. 22
McFadyen, Tamsin Cassandra. 22
McGavin, Alexander Gavin. 55
McGavin, Alexander George. 55
McGavin, Elspeth Mary. 55
McGavin, Elspeth Wendy. 55
McIntyre, Cheryl Desire. 36
McKay, Alexander. 48
McKay, Annie Rosalene. 48
McKay, Avenel Anne. 49
McKay, Betty Dorothy. 50
McKay, Christine Ann. 30
McKay, Duncan. 30
McKay, Duncan Andrew. 30
McKay, Fay Winifred. 49
McKay, Helen Lorraine. 49
McKay, Joan Valerie. 49
McKay, Lauren Louise. 30
McKay, Lorna Jocelyn. 48
McKay, Roslyn Anne. 49
McKay, William James. 49
McLauchlan, Elzabeth. 55
McLaughlin, Betty Pamela. 17
Meason, Nola Muriel. 33
Meikle, Alison May. 24
Meikle, Denise Margaret . 24
Meikle, Graham. 24
Menagh, Bryan William. 38
Menagh, Cheryl Anne. 38
Menagh, Peter. 38
Menagh, Phyllis Joan. 38
Miller, Elizabeth Mary. 19
Miller, Frances (Minnie) Muriel. 19
Miller, James Maurice. 19
Mitchell, Edna Joyce. 44
Molonjey, Margaret. 8
Monk, Margaret Kathleen. 15
Morris, Heather Tracey. 40
Morris, Kate Florence. 39
Morrisey, Carmel Frances. 45
Mott, Shirley. 40
Munro, Violet Emmaline. 24
Murray, Agnes Mary. 24
Murray, Eliza Jane. 11
Musial, Alfred Joseph. 24
Musial, Denise Margaret. 24
Musial, Kathryn Denise. 24
Musial, Laura Helen. 24
Nankivell, Maria. 11
Naughton, Bronwyn Dianne. 27
Naughton, Gayle Elizabeth. 27
Naughton, Gwenneth Evelyn. 27
Naughton, Joel Matthew. 27
Naughton, Laura Kate. 27
Naughton, Matthew Lance. 27
Naughton, Tania Elaine. 27
Naughton, William. 27
Newman, Betty Joy. 37
Newman, Garry Rowland. 37
Newman, Kaye Lynette. 37
Newman, Maralyn Glenda. 37
Newman, Margaret Monica. 37
Newman, Pamela Joy. 37
Newman, Phyllis Joan. 38
Newman, Robert John. 37
Newman, Robert Sydney. 37
Newman, Rose Evelyn. 37
Newman, Stanley Athol. 38
Newman, Sydney Francis. 37
Newman, Thelma Florence. 38
Newman, Valma Kathleen. 38
Neyland, Andrew Michael. 11
Neyland, Claire Louise. 11
Neyland, Jane Elizabeth. 11
Neyland, Michael Charles. 11
Neyland, Susanne Florence. 11
Nicholson, Eliza. 16
Nolan, Nancy Kathleen. 6
Nolan, Kevin (1917-). 6
Nolan, Kevin (1948-). 6
Nolan, Marjory Rita. 6
Nolan, Mary Ann. 6
Nolan,, Matthew. 6
Nolan, Michael. 6
Nolan, Philip Kevin. 6
Nolan, Robyn Lynette. 6
Norton, Annette. 45
O'Brien, Diane Claire. 5
O'Keefe, Margaret Mary. 45
O'Shea, Jamie Michael. 6
O'Shea, Michael Joseph. 6
O'Shea, Nancy Kathleen. 6
Odlin, Deborah Ann. 16
Odlin, Hugh Verne (Jnr). 16
Odlin, Joyce Elizabeth. 16
Odlin, Kenneth Verne. 16
Odlin, Patricia Ann. 16
Odlin, Shaun Theodore. 16
Odlin, Vanessa. 16
Odlin, Sharon Elizabeth. 16
Oldfield, Christine Amanda. 34
Oldfield, John. 34
Olfield, Kerry Ann. 34
Oldfield, Meredith Ann. 34
Parker, Gabrielle Dorcas. 24
Parker, Dorothy. 59
Parker, Graham. 24
Partington, Gladys. 15
Pascoe, Sandra Lynn. 22
Paterson, Lois Dawn. 7
Paterson, Rosanna. 34
Patterson, Jan. 34
Patton, Hannah. 43
Paynter, Gayle Maree. 49.
Pearce, Christine. 35
Pegler, Aaron Jay. 39
Pegler, Amanda Lee. 39
Pegler, Brett Colin. 39
Pegler, Colin James. 39
Pegler, Kay Janette. 39
Pegler, Sianne Melanie. 39
Perry, Bronwyn Dianne. 27
Perry, Robert Wilson. 27
Pethick, Benjamin Keith. 39
Pethick, Beryl Doris. 39
Pethick, Gloria Jean. 39
Pethick, John William Charles. 39
Pethick, Kay Janette. 39
Pethick, Keith. 39
Pethick, Rosemary Jennifer. 39
Pethick, Susan Kathleen. 39
Pethick, Trevor Keith. 39
Phillips, Craig Andrew. 8
Phillips, Jane. 13
Phillips, Luke James. 8
Phillips, Margaret Elizabeth. 8
Phillips, Mark William. 8
Phillips, Sally Narelle. 8
Phillips, William Edward. 8
Pickering, Susan Dorothy. 26
Pigdon, Cheryl Fay. 51
Piper, Madge Lucy. 59
Pitts, Benjamin (1862-1949). 6
Pitts, Benjamin (1973-). 8
Pitts, Christine Leanne. 7
Pitts, David William. 8
Pitts, Dianne Elizabeth. 7
Pitts, Doris. 7
Pitts, Ella Currith. 7
Pitts, Elsie Emily. 6
Pitts, Emily Selena. 6
Pitts, Glenice Emilie. 7
Pitts, James Benjamin. 6
Pitts, Janet Carmel. 8
Pitts, Jennifer Margaret. 7
Pitts, Julian. 8
Pitts, Kathryn Joy. 8
Pitts, Lenore Robyn. 8
Pitts, Leonard Edgar. 7
Pitts, Leonard Neil. 7
Pitts, Lois Dawn. 7
Pitts, Patricia Mary-Anne. 55
Pitts, Raymond Benjamin. 7
Pitts, Raymond Graham. 7
Pitts, Susan Kerry. 7
Pitts, Susannah. 6
Post, Heather Lorraine. 60
Poulton, Barbara Avenel. 49
Poulton, Graeme Edward. 49
Poulton, Michael Graeme. 49
Poulton, Yvette Jayne. 49
Poweracker, Helen Kay. 26
Quinn, Carolyn Jan. 32
Quinn, Christopher Peter. 32
Quinn, Geoffrey Michael. 32
Quinn, Janice Anne. 32
Quinn, Jennifer Faye. 32
Quinn, Lisa Jane. 32
Ralph, Darrell Scot. 5
Ralph, Elizabeth Joy. 5
Ralph, Frederick Sydenham. 5
Ralph, Gavan Dale. 5
Ralph, Ian Frederick. 5
Ralph, Lucy Lavinia. 5
Ralph, Marilyn Anne. 5
Ralph, Nicole Simone. 5
Redfern, Amanda Jane. 48
Redfern, Douglas Ernest. 48
Redfern, Lisa Anne. 48
Redfern, Valerie Gwenneth. 48
Redpath, Linda Patricia. 13
Reilly, Marie Cecily. 9
Reilly, Matthew John. 9
Reilly, Michael. 9
Reimers, Curtis John. 36
Reimers, Graham Stuart. 36
Reimers, Leigh-Anne Laucinder. 36
Reimers, Lorraine Mavis. 36
Reymond, Daphne Wantha. 53
Rhook, Christine Helen. 7
Richard, Adam Scott. 37
Richard, Alyson Clare. 37
Richard, Joanne. 37
Richard, Raymond Leslie. 37
Richard, Shane Andrew. 37
Richards, Deidre Mae. 53
Richardson, Debbie. 9
Richardson, Jennifer Anne. 30
Rider, Andrew Nicholas. 33
Rider, Cameron John. 33
Rider, Christopher Kay. 33
Rider, Damien Christopher. 34
Rider, Jennifer Jill. 33
Rider, Joy. 33
Rider, Kathleen Minnie. 33
Rider, Meredith Ann. 34
Rider, Reid. 33
Rider, Victor Albert. 33
Robertson, Barbara. 24
Robertson, Dean Lee. 24
Robins, Sheree Lee. 37
Robinson, Elizabeth Germaine. 9
Robinson, Florence Anne. 15
Rose, Coral Heather. 14
Rose, Glenn Allen. 14
Rose, Heather Amelia. 14
Rose, Ian Keith. 14
Rosel, Laura Elizabeth. 16
Rosling, Glenys Yvonne. 30
Rosling, Kelli Anne. 30
Rosling, Robin John. 30
Rosling, Tammy Lynn. 30
Ross, Edith Jean. 56
Ross, Sarah Patterson. 48
Rourke, Barbara Yvonne. 19
Rourke, Brett Alan. 19
Rourke, Dionne Jade. 19
Rourke, Jason Anthony. 19
Rourke, Lynette Ann. 19
Rourke, Marion Handasyde. 19
Rourke, Melanie. 19
Rourke, Shane Terry. 19
Rourke, Walter Harry. 19
Rourke, Walter Lindsay. 19
Row, Dianne Amelia. 41
Row, Frances Margaret . 41
Row, Frank Hawkins. 40
Row, Pauline. 41
Row, Roland Frank Hawkins. 40
Row, Valerie. 40
Row, Wendy Margaret. 41
Rowe, Sarah Frances. 40
Rowe, Christine Leanne. 7
Rowe, Elsie Sarah. 7
Rowe, James. 40
Rowe, Julie Strangways. 40
Rowe, Ian Colwell. 7
Rowe, Jo-Ann Rae. 13
Rowe, Matthew James. 7
Rowe, Paul James. 40
Rowe, Stephanie Rae. 13
Rowe, Stephen Kenneth. 13
Rowe, Timothy James. 13
Ryan, Lorna. 29
Sainsbury, Brian William. 45
Sainsbury, Gail. 45
Sainsbury, Lynette Margaret. 45
Sainsbury, Margaret June. 45
Sainsbury, Tara Danette. 45
Sainsbury, Todd William. 45
Sainsbury, William Whistler. 45
Sampson, Craig Noel. 33
Sampson, Jennifer Jill. 33
Sampson, Julie Kay. 33
Sampson, Noel Stanley. 33
Sandall, Barbara Anne. 6
Saw, Geoffrey Alan. 35
Saw, Phillip. 35
Saw, Robyn Linley. 35
Scarlet, Barry. 56
Scarlet, Bradley Neil. 56
Scarlet, Gegory John. 60
Scarlet, Jamie Mathew. 57
Scarlet, Kenneth Barry. 60
Scarlet, Leanne Maree. 56
Scarlet, Lois. 56
Scarlet, Vanessa Louise. 57
Scarlet, Warren Paul. 57
Schilling, Barbara Noel. 33
Schilling, Carol Ann. 33
Schilling, Craig. 33
Schilling, Daphne. 33
Schilling, Jan. 34
Schilling, Julius F. 33
Schilling, George Rowland. 34
Schilling, Glenda Joy. 33
Schilling, Gordon Hopetoun. 33
Schilling, Ian Leslie. 33
Schilling, Jennifer Lynn. 33
Schilling, Kathleen Minnie. 33
Schilling, Leanne Joy. 33
Schilling, Lenneth Leslie. 33
Schilling, Leslie Longwood. 33
Schilling, Mark Laurence. 33
Schilling, May Burswood. 34
Schilling, Neil Andrew. 33
Schilling, Nigel George. 34
Schilling, Nola Muriel. 33
Schilling, Margaret Annie. 33
Schilling, Rodney Neville. 34
Schilling, Valda Jessie Francis. 34
Schilling, Winnifred Gertrude. 33
Scott, David Henry. 43
Scott, Eleanor Elizabeth. 43
Scott, Elizabeth (1842-_. 43
Scott, Elizabeth (nee Cook). 43
Scott, George Walter Alexandra. 43
Scott, Hillary Lorraine. 50
Scott, James Henry. 43
Scott, John Henry. 43
Scott, Josephine Victoria. 20
Scott, Melinda Alexandra. 43
Scott, Suzanne Lee. 26
Scott, William Henry. 43
Sever, Joy Mary. 47
Sever, Laine Peter. 47
Sever, Peter John. 47
Sharman, Brian. 57
Sharman, Kim Joy. 57
Sharman, Lois Joy. 57
Sharman, Tracy Lee. 57
Sharp, Rosemary Jennifer. 39
Shave, Diana Marguerite. 23
Shave, Doris Minnie Helena. 22
Shave, Penelope Mariette. 23
Shave, Helen Handasyde. 23
Shave, Jillian Louise. 22
Shave, Lionel Charles Horace. 22
Shave, Lionel Kenneth Osbourn. 22
Shave, Margaret Wendy. 22
Shave, Valerie Handasyde. 22
Shaw, Deneece Nicole. 36
Shaw, Frances Sophia Agnes. 35
Shaw, Hugh McKenzie. 35
Shaw, Ian High McKenzie. 35
Shaw, Jo-Anne Selina.. 36
Shaw, Karleen Michell. 36
Shaw, Katrina Anne. 36
Shaw, Stephen Andrew. 36
Shaw, Wendy Maureen. 36
Shay, Suzanne Margaret. 47
Sildever, Anna. 22
Sildever, Jillian Louise. 22
Sildever, Lucinda. 22
Sildever, Uri John. 22
Simondson, Christopher. 34
Simondson, Frank. 34
Simondson, Helen. 34
Simondson, Ian William. 34
Simondson, May Burswood. 34
Simondson, Michael. 34
Simondson, Pat. 34
Simondson, Paul. 34
Simondson, Peter. 34
Simondson, Rothes Adair. 34
Simondson, Timothy Peter. 34
Simondson, Ward Ian. 34
Simons, Christine Kiloran. 16
Simons, Ernest Rupert. 16
Simons, Phyllis Elaine. 16
Simons, Rosemary. 16
Simpson, Claude Longley. 40
Simpson, Claudia Joy. 41
Simpson, Frances Longley. 41
Simpson, Frances Margaret. 41
Simpson, Jane Alexandra. 42
Simpson, Margot Longley. 41
Simpson, Moira. 42
Simpson, Rebecca Margaret. 42
Simpson, Rowan Andrew George. 42
Sims, Dana. 40
Sims, Kade. 40
Sims, Pauline Strangways. 40
Sims, Ronald Arthur. 40
Skeggs, Eileen May. 20
Sloss, Valda Lillian. 40
Smiles, Seona Ann. 44
Smiley, Cari-Lyne. 35
Smillie, Carmel May. 20
Smith, Alan Charles. 55
Smith, Ann. 3.
Smith, Anne Phyllis. 27
Smith, Constance Valma. 54
Smith, Cyril Edgar. 54
Smith, Danial Charles. 55
Smith, David Alan. 55
Smith, Dorothy Helen. 55
Smith, Edward George. 54
Smith, Eliza. 3
Smith, Elspeth Mary. 54
Smith, Evelyn Amelia. 54
Smith, Gail. 55
Smith, George. 54
Smith, Grace Irvine. 44
Smith, Gwendoline Mary. 54
Smith, Helen Violet. 50
Smith, Jayson Troy. 27
Smith, John. 3
Smith, John Davis. 27
Smith, John Stanley. 54
Smith, Joyce Isobel. 55
Smith, Lucy. 3
Smith, Mary (1835-1923). 54
Smith, Mary Amelia. 54
Smith, Phyllis Frances Coverdal. 54
Smith, Phyllis Judith. 54
Smith, Stephanie Jane. 25
Smith, Wayne Leslie. 55
Snell, Charles Christian. 12
Snell, Edwin Charles Joseph. 12
Snell, Leigh Rowan. 12
Snell, Mark Edwin. 12
Snell, Noela Eadith Lishman. 12
Snell, Violet May Whitford. 12
Spanney, Wendy Maureen. 36
Sparkes, Julianne. 55
Spiers, Alissa Jayne. 6
Spiers, Barbara Anne. 6
Spiers, Carlee May. 6
Spiers, David Benjamin. 6
Spiers, Dellas Mary 6.
Spiers, Delma Lee. 6
Spiers, Donald John. 6
Spiers, Elsie Emily. 6
Spiers, Julie Ann. 6
Spiers, Leeane Barbara. 7
Spiers, Peter Denis. 6
Spiers, Rebecca Ann. 6
Spiers, Stanley Clifford. 6
Spiers, Stanley John. 6
Spinks, Betty Irene. 29
Stanley, Eveline Maud. 14
Stanley, Gerald. 14
Steele, Dorothy. 28
Stephens, Pauline. 41
Sterel, Anthony Gerrit. 41
Sterel, Gerrit Christiaan. 41
Sterel, Dianne Amelia. 41
Sterel, Susanne Elizabeth. 41.
Stone, Emily May. 59
Stuart-Jones, Pat. 34
Stubbings, David Alan. 14
Stubbings, Evelyn Francis. 14
Stubbings, Ian David. 14
Stubbings, Sarah. 14
Sullivan, Christine Norma. 47
Sullivan, Coral Mary. 46
Sullivan, Cornelius Thomas. 46
Sullivan, Doreen May. 46
Sullivan, Ethel Jane. 46
Sullivan, Frances Mitchell. 46
Sullivan, Laurie. 46
Sullivan, Lorna Ethel. 47
Sullivan, Vesta Margaret. 46
Summerhayes, Winnifred Gertrude. 33
Summons, Christian Sheringham. 21
Summons, Julie Patricia. 21
Summons, Kenneth Aubrey. 21
Summons, Kingsley Cheverton. 21
Summons, Susannah Patricia. 21
Styles, Joan Maree. 14
Swan, Hazel Maude. 4
Sydes, Margaret. 10
Symons, Ronda Ann. 27
Tan, Linda. 24
Tanner, Francine Elizabeth. 52
Tanner, Lynette Francis. 52
Tanner, Peter Francis. 52
Taylor, Alan Walter. 44
Taylor, Ann Christine. 46
Taylor, Annette. 45
Taylor, Beau James. 45
Taylor, Carmel Frances. 45-
Taylor, Catherine. 44
Taylor, Chase Maxwell. 45
Taylor, Christopher John. 47
Taylor, D'Arcy James. 45
Taylor, David Henry. 47
Taylor, David Leigh. 46
Taylor, David Robert. 47
Taylor, Deborah Lee. 47
Taylor, Debra Anne. 45
Taylor, Donald Leigh. 45
Taylor, Edna Joyce. 44
Taylor, Edwin Ralph. 44
Taylor, James Alan. 45
Taylor, James Douglas. 47
Taylor, Jane Margaret. 47
Taylor, Jennifer Myra. 22
Taylor, Jessie. 44
Taylor, Julie Rosanne. 45
Taylor, Karina Lynne. 22
Taylor, Lisa Jane. 22
Taylor, Lorna Ethel. 47
Taylor, Lorna Joy. 47
Taylor, Margaret June. 45
Taylor, Margaret Mary. 45
Taylor, Michael William Gordon. 22
Taylor, Michelle Ann. 47
Taylor, Ralph (1867-1944). 44
Taylor, Ralph (Snr). 44
Taylor, Roberta Doris. 23
Taylor, Rose Ellen. 44
Taylor, Rosellen Jess Blanche. 44
Taylor, Rosellen Mary. 44
Taylor, Sandra Lynn. 22
Taylor, Sheryl. 22
Taylor, Stephen Alan. 46
Taylor, Susan Anne. 44
Taylor, Tamsyn Leonie. 22.
Taylor, Thelma Shirley. 45
Taylor, Valerie Handasyde. 22
Taylor, William Paterson Welsh. 22
Taylour, Christopher Robert. 4
Taylour, Edna Lyell. 4
Taylour, Elizabeth Lavinia. 5.
Taylour, Emily. 4
Taylour, Laurence George. 4
Taylour, Lesley Margaret. 4
Taylour, Matthew. 4
Taylour, Ruby Edna. 4
Taylour, Shane. 4
Taylour, Vanessa. 4
Taylour, William Henry. 4
Thistleton, Anne Patricia. 25
Thompson, Bianca Bree. 19
Thompson, Christina Waddy. 23
Thompson, Edwina Frances. 23
Thompson, Hamish Randall. 23
Thompson, Ian Randall Waddy. 23
Thompson, Melanie. 19
Thompson, Prudence Helena. 23
Thomson, Brett Douglas. 53
Thomson, Campbell John. 53
Thomson, Douglas Sewell. 53
Thomson, Jean. 53
Thomson, Petrina Jean. 53
Thomson, Trevor Malcolm. 53
Thornton, Bryn Robert. 31
Thornton, Delma Lee. 6
Thornton, George Henry. 31
Thornton, Leonie Joy. 31
Thornton, Norma Joy. 31
Thornton, Peter Alexander. 31
Thornton, Vanessa Ga1. 31
Timewell, Hilda May. 30
Torode, Robyn Jean. 26
Treleor, Margaret. 51
Treves, Susannah. 6
Trotman, Annie Sarah. 48
Tunzi, Fleur Marian. 25
Wade, Elizabeth Lavinia. 5
Wade, James Charles. 19
Wade, Kenneth Leslie (Rev.) 5
Wade, Diane Claire 5.
Wade, Robyn Elizabeth. 5
Wade, Peter Kenneth. 5
Ward, Jennifer Margaret. 7
Ward, Rothes Adair. 34
Watkins, Beverley June. 25
Watkins, Kathleen. 28
Watson, Jessie. 44
Watson, Lorraine Ada. 58
Watt, Amie Jade. 20
Watt, Kim Lynette. 20
Watt, Paul Arnold. 20
Weaver, Bronwyn Dianne. 27
Weaver, Ronald John. 27
Welch, Betty Jean. 19
Welch, Jennifer. 19
Welch, Pauline Victoria. 19
Welch, Peter. 19
Weston, Donna Maree. 20
Weston, Rosa Marie. 48
Wetton, Harold Edward. 20.
Wetton, Kim Lynette. 20
Wetton, Lynette June. 20
Wetton, Mark Andrew. 20
Wetton, Stephen Edward. 20
Wheatley, Michelle Atlay. 50
Whitfield, Beverley Rae. 58
Whitfield, Mark. 58
Whitfield, Michelle Lee. 58
Whitfield, Denis Bevan. 58
Whitford, Maria. 11
Whitford, Mark. 11
Whitford, Mary Jane. 11
Whitmore, Jill Elva. 4
Whittington, Coral Mary. 46
Whittington, Edward Thomas. 46
Whittington, James Edward. 46
Whittington, Lawrence John. 46
Whittington, Monica Theresa. 46
Whittington, Nathan Robert. 46
Whittington, Patricia Coral. 46
Whittington, Paul James. 46
Whittington, Phillip James. 46
Whittington, Robert Thomas. 46
Wiggins, Charles Gustave. 47.
Wiggins, Christine Norma. 47
Wilcock, Mary Jane. 19-
Wilding, Christopher Bruce. 52
Wilding, Gayleen Joy. 52
Wilding, Glen Stephen. 52
Wilding, Peter Stuart. 52
Wilding, Tanya Louise. 52
Williams, Carol Joanne. 52
Williams, Darren. 56
Williams, Doris. 7
Williams, Gary. 45
Williams, Gary Robert. 52
Williams, Gayleen Joy. 52
Williams, Harley Richard. 56
Williams, Joy. 56
Williams, Margaret Dorothy. 52
Williams, Patricia Kathleen. 36
Williams, Roy Albert. 52
Wilson, Denise Sidnee. 38
Wilson, Robert Arthur. 38
Wilson, Rosalie Ann. 38
Withers, Anne Phillips. 27
Withers, Russell Alfred. 27
Wloka, Linda. 35
Woodford, Helene. 51
Wong, Emily. 21
Wong, Hoo Bun. 21
Wong, Nicholas. 21
Wong, Patrick. 21
Wong, Simon. 21
Wright, Allen Ronald. 51
Wright, Cheryl Fay. 51
Wright, Muriel May. 51
Wright, Rodney Francis. 51
Wright, Ronald Conly. 51
Wright, Valerie Isabel. 51
Wuthrich, Beryl Lesley. 14
Wuthrich, Peter Frederick. 14
Wyatt, Dora Patricia. 21
Wyatt, Roger Handasyde. 21
Wyatt, Julie Patricia. 21
Wyatt, Michael Cheverton. 21
Wyatt, Peter Campbell. 21
Wyatt, Theresa Kathleen. 21
Wyatt, Victoria Phair. 21
Yates, Olive. 17
Young, Catherine Phyllis. 54
Young, Doreen Maud Strangways. 40
Young, Douglas John. 54
Young, Gary Douglas. 54
Young, Hannah Eliza. 51
Young, Hannah May. 51
Young, Joanne Lee. 54
Young, Phyllis Judith
Young, Thomas Barkley. 51
Zimmerman, Lynette Ann. 19