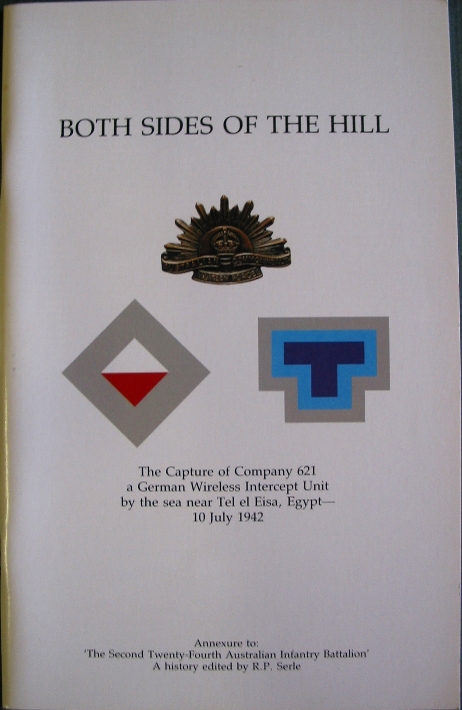 Jim Long's enquiry into capture of German 'Company 621'
Wednesday, June 8, 1921
---
Days after Jim Long's death in August 1987, he was sent a letter by Major Everard Baillieu, CBE, a veteran of Tobruk and El Alamein.

Major Baillieu, 1912-2002, of South Yarra, was the author of Both Sides of the Hill, a booklet published by the 2/24th Battalion Association. The publication examined the capture of Company 621 a German intercept and intelligence unit, by the sea near Tel el Eisa, Egypt, on July 10, 1942.

Jim Long had written about the possibility of an incident in which he was involved in Beirut in 1942, being connected with Company 621.

Major Baillieu, writing from the 24th Floor, of 360 Collins St, Melbourne, on August 13, 1987, said:

"Dear Jim (If I may so call you, without the formality you kindly afforded me.

:I would have replied earlier to your most interesting letter of June 17 with the attachment concerning an incident which you describe in the Middle East, presumably in Lebanon. Unfortunately, I have been overseas for most of the time and frankly I was unable to sit down and give the necessary concentration to a reply.

"It is certainly possible that the activities in Lebanon may be related to those described in Both Sides of the Hill. It is easy when writing to allow one's imagination at times to become a little loose or freed and I was very tempted in the early stages of my research to give great credence to many of the incidents described chiefly in the books The Key to Rebecca and Bodyguard of Lies.

"If you look at the pages I have described in the Bibliography, you will read the word 'transceivers' and if you add this to The Key to Rebecca and Major Yandam's efforts to rescue his girl and herf son from a terrible and cruel spy who came in from the desert, you will find it more than possible to relate your story to the exciting events of those days in 1942.

"As stated in my annexure, I exchanged numerous letters with Hans-Ottto Behrendt who was a Senior Intelligence Officer on Rommel's Headquarters and Liaison Officer between Company 621 and Rommel. He died only a few months ago when I was in active correspondence with him concerning the fate of Captain Alred Seebohm. Behrendt helped me write Both Sides of the Hill.

"Behrendt indicated that he had very little regard for the accuracy of books at the time, and he pointed out that much of the information dwelt on the fantasy rather than the truth. I therefore merely in a rather dry form possibly, stuck to facts as I knew them and as related by the Germans.

"I was able to correct, but too late, some inaccuracies in Behrendt's book Rommel's Intelligence in the Desert Campaign. It is also possible, as a German Intelligence Officer, he did not wish to be drawn too much about the spying activities of his own side.

"It was surprising to me and I suggest to others, to realise how much Rommel knew at the time about his enemies and when Company 621 was captured, I can easily see why our side did not wish it to be known how foolishly we had behaved concerning security and that we would, after the capture of Company 621, be fighting Rommel with one hand behind his back.

"Similarly, I imagine Rommel would not like the world to know that for a few weeks anyway, or perhaps longer, he was fighting us with his field intelligence almost entirely eliminated.

"I think if you read the books to which I have referred above and the pages which are mentioned in my Bibliography, you will have a chance of forming your own opinion of the significance of your story. My answer is that it is well possible the stories may be inter-related but I can give you no proof," Major Baillieu said.