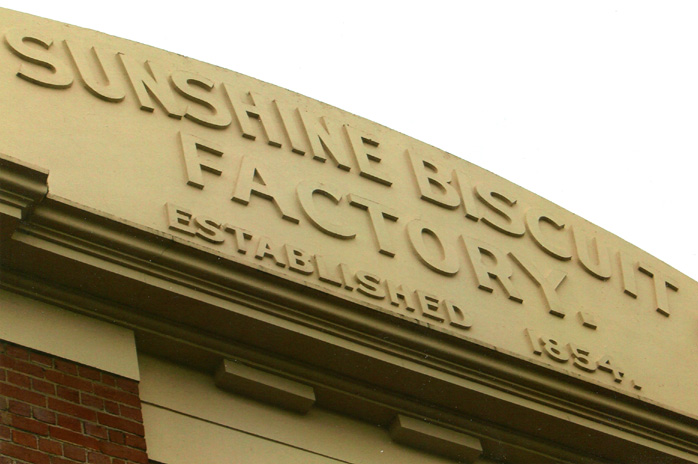 Nothing Without Labour: Chapter 5
Thursday, November 27, 1851
---
A 1904 publication commented on "J. Long & Company Proprietary Limited, Factory, Ballarat East".
"The manufacture of confectionery has been brought to a fine art, and there are few establishments of the kind in the Commonwealth where a wider variety and greater excellence of candied lollies and dainty biscuits come into being than that of Messrs J. Long and Sons Limited of Ballarat East.
"The company's large premises, situated at the corner of Victoria and East Streets, Ballarat East, constitutes one of the landmarks of the district.
"The nucleus of the present extensive manufactory was established in 1854 – 50 years ago – by Mr James Long, who was born in Tipperary, Ireland, and who was reached the ripe old age of 75 years.
"During the whole of this period, the founder has been in active business life, and has, by dint of careful management, earned for the establishment the distinction of being one of the leading confectionery and biscuit factories in the state.
"There are now 110 persons employed in the Ballarat manufactory, a substantial sum is circulated in wages. The business is managed by Mr T.P. Long; Mr J. Long, JP, having retired from active service a few months ago.
"The company now has branches at Melbourne, Bendigo, Geelong, Maryborough, Fremantle (WA), Adelaide, Launceston, Hobart and Brisbane."
The report went on to lost the range of product manufactured including Long's Cream Crackers and Long's Me-Le Wafers.
The Portland Guardian reported in the April 29 edition of the same year: "We learn this afternoon that the well-known property 'Burswood', South Portland, has been purchased by Mr Long of Ballarat."
'Burswood' is one of the most historic residences in Victoria. It was built by John Hughes, to the design of John Barron, for Edward Henty in 1855 at a cost of £12,000, after 20 years following his arrival in Portland from Van Dieman's Land to establish the first permanent white settlement in Victoria.
The Hentys later moved inland and took up large areas of land around Casterton. Today, the 'Burswood' property comprises a little less than five hectares, about half of which is formal garden/ The garden  was laid out by a man who served Portland as a Councillor, Edward Barsby.
The 11-room Georgian-style residence was built from locally quarried bluestone. Timbers and glass were imported from England.
The Weekly Times commented that this gave the homestead "an unusual degree of opulence for such a young colony". 'Burswood' was a name derived from a village in Kent (spelling Burrswood) from which the Camfield family came. The Camfields were friends of Edward Henty.
James Long joined the civic life of Portland quickly, and was elected to Council in early August, 1905. The Portland Guardian  of August 30, 1905 reported, on his election as Mayor of his new home town. The article refers to his experience of municipal and public life, and also to the positions he held previous to making Portland his home.
Mayor Long replied: "I can not just now find words to express my feelings as I am taken by surprise to find myself elected Mayor of Portland, a position I never directly or indirectly sought for. Of course, municipal business is not strange to me, as I have had several years, and three of them of Mayor in the City of Ballarat6 (East), and for over 30 years Justice of the Peace.
"I am certainly a stranger to some of you, and therefore your kindness and confidence and that of people of Portland, generally, has placed me under an obligation that demands from me some acknowledgement.
"I will accept the position and if God shares me in health and strength, I will try and work for the benefit and prosperity of Portland, so that when my term of office expires, you will not have to say that I was a failure. Again gentlemen, I thank you most sincerely for the honour you have done me by electing me Mayor of this important town of Portland."
During James Long's term as Mayor – he held the office for three years – the town was visited by Lord Northcote, the Governor-General. He was entertained at 'Burswood'.
James frequently had important visitors. Relatives, after a period of sickness, would be invited to 'Burswood' for recuperation. Mary's brother, for instance, stayed there for more than six months.
It was no wonder that some found confusing what appeared to be a contradictory nature of being very hard in business life, and yet so generous in family and community life.
Said grandson Allan Long: "He seemed to glory in public affairs, while Grandma Long would shy away from such. Her happiness was with her home and her family, and her hundreds of pot plants. It pleased me to hear her call out to Grandfather: 'James, come and see this'."
"I think Grandma must have played a very active part in establishing the success of the factory in the early stages. Indeed Grandfather had mentioned it to me.
"With the death of Queen Victoria, I can remember well how Grandma cried, and went into mourning for three months, and Grandfather wore a black band on his sleeve coat.
"Grandfather was a great believer in work: 'Nothing Without Labour'. He hated to see you doing nothing. He would say: 'Satan finds mischief still for idle hands to do'. If I was not doing something he would soon have me repairing something or pulling out weeds which I often thought HE GREW FOR ME.
"There was one way to get out of these tasks. He was an avid reader and had a good collection of books, and I found that if I was reading he never found a job for me – SO I READ."
March 3, 1916, saw the passing of James Long in his 86th year. Obituaries were recorded in the Portland Guardian listing his community work including his presidency of the local hospital.
"He was a firm believer in the health giving properties of hot-sea-bathing, and gave credit to this source for the good health which he has almost continuously enjoyed after this arrival here."
James had succumbed to an illness through which he was confined to his Portland home for a few weeks. Tributes were published in Ballarat, and in several items printed in The Argus.
A number of townsmen followed his remains, transported by the Portland-Ballart morning train, the Masonic Lodge of which James was a member, was well represented. James Long left a substantial estate.
Mary lived to the age of 87, reuniting with James on December 14, 1929.