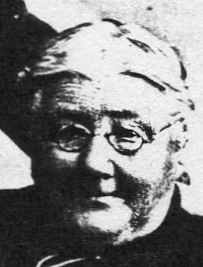 Wilcock Family History
Saturday, January 1, 1842
---
My father Jim Long's middle name 'Wilcock' came from the maiden name of his paternal great grandmother, Mary Jane Wilcock. Mary Jane was second wife of James Long (1830-1916).
In December 1986, Christine Pullman (nee Wilcock) penned notes of the early Wilcock family history.
James Wilcock is described on his death certificate as a miner, but in his son William's death certificate, James's occupation is given as a 'carpenter'.
James Wilcock was born at Ovenden in England in 1816, the son of William, a mining manager, and Mary Sutchliff. He married Margaret Cragg, the daughter of John Cragg, a publican, and Elizabeth Penny, in 1840 at Halifax.
Margaret was born in Yorkshire in 1821 and was 19 when she married. James was 25 at the time of his marriage. James died on December 6, 1892, of heart disease at the age of 76.
Margaret died on December 28, 1915, at the age of 94. At the time of her death she was living with her eldest daughter, Mary Jane, and her husband, James Long, at their home 'Burswood' at Portland.
James Wilcock was buried in an unmarked grave in the New Cemetery in Ballarat. Margaret was buried in the South Cemetery, Portland.
James and Margaret had seven children – five of them were born at Elland in Yorkshire:
• Mary Jane, born 1842;
• Betsy, born 1844;
• William, born 1848;
• Sarah, born 1849;
• Annie, born 1851; and after the family arrived in Victoria from England –
• Henry, born 1860;
• Emily, born 1862.
Margaret and the five children travelled to Geelong, Victoria, with Margaret's brother, James Cragg, and his wife and child, as assisted migrants of the Merchant Prince.
The Merchant Prince left Liverpool on December 5, 1857, and arrived in Melbourne on March 14, 1858.
The shipping records describe the Wilcocks and Craggs as 'Wesleyan', and travelling on their "own account". Their native country was listed as York, England.
Margaret's brother, James Cragg, died in 1862, and the death certificate states that he was "found dying" on the plains at Wichelsea.
The verdict of the Coroner's Inquiry: "died from exposure to cold and wet during the night and morning of July 12-13, 1862".
Mary Jane married James Long in 1865, after the death of first wife, Olivia. James had his own confectionery and bakery business in Plank Road, Ballarat, which was later to become the Sunshine Biscuit Factory. James and Mary Long had eight children.
Before James Long purchased 'Burswood' at Portland they moved to a new home called 'Longwood', set among hills and valleys, approximately six kilometres east of Ballarat, at Glen Park.
In the garden was an ivy-covered summer house which became a retreat from Margaret when she visited Mary Jane.
In 1904, James Long purchased the property 'Burswood' at South Portland. 'Burswood was originally built for Edward Henty in 1856.
The property comprises about eight acres, about half of which is formal gardens. The 11-room Georgian-style residence was built from locally quarried bluestone. Timbers and glass were imported from England.
Margaret lived with James and Mary Jane, until her death in 1915. Mary Jane and James frequently had many visitors at 'Burswood' – apparently William Wilcock, Mary Jane's brother, once stayed more than six months.
James Long died in 1916, and Mary Jane died in 1929.
Christine Pullman wrote, in 1986: I have been unable to uncover very little information to this point about Margaret and James Wilcock's other daughters, other than that supplied to me by Mr R. Row and Mr W. Wilcock, great grandsons.
Betsy married Mr McRae and had three sons; Annie married Mr Stephens and had two sons, who were both killed in World War I, and a daughter, Hilda. Emily married Mr Whitehead and had two children – Eve and Kenneth.
Sarah died unmarried in 1876, at the age of 23, after a two-week bout of pneumonia. On her death certificate, her father James lists his place of residence as 'North Street, Richmond'.
Margaret and James had two sons:
• William, who was born in 1842, at Elland, England; and
• Henry, born 1860.
Henry died on July 8, 1861, after two days 'convulsions'. His death certificate describes the place of death as 'Ingleby', which is where the family was living at the time. However, it also describes his place of birth as being Ballarat. He was buried at Winchelsea Cemetery.
William married Mary Ann Dunn in 1872 at Ballarat. On their marriage certificate, William's 'rank or profession ' is described as 'storekeeper'.
James Long, William's brother-in-law, and Annie Wilcock, William's sister were the witnesses who signed the marriage certificate.
Mary Ann's parents were Thomas, a farmer, and Ann Levella, Mrs Frances Terry, a grand-daughter of Mary Ann and William, has told me that she remembers her mother, their daughter Hilda, say that Mary Ann's mother was Austrian, and spoke poor English.
Apparently there was some conflict between Ann and Thomas over Mary's upbringing as Ann was Catholic, and Thomas was Protestant. Thomas had his way and Mary was brought up to be Protestant.
Mary Ann was born in 1850 in Liverpool. She was 22 when she married William, who was 24. She came to Victoria when she was 13.
William was a factory engine driver, and worked at James Long's biscuit factory in Ballarat. They had seven children:
• Sara, born in 1876, who married Mr Arbuckle, and later moved to live on an orchard near Perth;
• Ethel Amy, born 1877, and died nine weeks later;
• Roland Henry, born 1878;
• Hilda Mary, born 1880, who married Horace Giles, and moved to Subiaco, Western Austrlai after the war, where they ran the Victoria Hotel. After Horace's death, Hilda ran the hotel herself for some time;
• Mary Jane, born 1882, and lived for only 24 hours;
• James Longwood, born 1883, who moved to Western Australia and did not marry; and
• Arthur William Stanley, born 1891, who married a widow, Rose, with one son, towards the end of World War I. Arthur died a few years after marrying. They lived in St Kilda, and had no other children.
Frances, daughter of Hilda and Horace, says of James Longwood: He came to Western Australia, presumably after my parents were married – they settled here – near Perth. I remember his visiting when I was a child before World War I He lived and worked in the country, presumably as farm labourer, and was reported to be very good with horses – and later he worked as a mill and and died in 1966 (I think that was the year).
"He was employed by mill owner K. Powle, who must have valued him highly as he was responsible for his funeral. I think he was the bad boy of the family, though details of his sinning were never disclosed – but it certainly was considered that he left his country (Ballarat) for his country's good.
"My mother always referred to him as 'young Jim'. I remembered that he enjoyed a drink – but that  did not prevent him being constantly employed. He never married."
Of Sara, Frances said: "Sara also came west, married a market gardener, Arbuckle. After he died, she returned east, married again, but died not long after, I think."
Frances says in her letter: "Your grandfather was Roland Henry, while my brother was John Rowland – and my mother (Hilda) asserted that the 'Roland' was from Roland Hill, originator of the Penny Post (1795-1879), but looking him up I find that his name is spelt – Rowland – Sir Rowland Hill – but of course that could easily be a typographical error, couldn't it?"
The babies Ethel Amy and Mary Jane were both buried  in Ballarat Cemetery in the same unmarked grave as their grandfather James.
William was a member of the Victoria Bowling Club in Ballarat. He died on February 10, 1912, at the age of 64. After William's death , Mary moved to 'Kelso', 4 Fawkner St, St Kilda, where she lived until her death on July 3, 1917.
Both William and Mary were buried in the Ballarat New Cemetery in a shared grave with an impressive headstone.
William and Mary's son, Arthur, was a compositor in the printing trade, and worked for J.J. Anderson. Roland, their eldest son, was also a compositor initially, and later became a linotype operator.
On August 6, 1902, at the age of 23, Roland married Edith May Letcher at Ballarat, Edith was 22 at the time of her marriage and was born in Ballarat in 1880. Her parents were William Letcher , a miner, and Elizabeth Quick.
Roland and Edith lived in Ballarat until the 1940s when they moved to Smith St, Brunswick, when Roland took up a position with the Printing Works.
In their later years they lived with their daughter Grace, and her husband Fred Veitch, at their home in Burwood and later in Box Hill North.
Roland died on December 17, 1953, at the age of 75; and Edith died on May 10, 1967, at the age of 87. Both were cremated at Springvale.
Roland and Edith had five children:
• a male was stillborn in 1903;
• William Howard, was born in 1904;
• James Walwin, born 1907;
• Grace Annette. born in 1911; and
• Mary, born in 1914, and died three months later in 1915.
William, who pursued a career in the bank, married Dulcie Saunders in 1931. They had two children:
• Judith, born in 1932; and
• Brian, who died as a young child, less than two years old.
At the time of his death, the family was living in Sydney. Dulcie died in 1956, and that year William married Barbara Barkas. Between 1958 and 1962 Barbara and William lived in Malaya with a brief to organise the setting up of a central bank for Malaysia.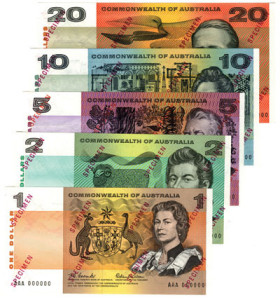 He subsequently became the Foundation Governor of Malaya's Central Bank. He returned to Australia in 1962 to become an advisor to the Governor of the Reserve Bank of Austrralia, and General Manager of the Bank's Note Issue Department in which post he was associated with the introduction of Australia's decimal currency bank notes.
From 1970 to 1974, after his retirement from the Bank, he was the Chairman of the Australian Apple and Pear Board. In 1961, William was made an honorary Malaysia Tan Sri, Knight of the Order of P.M.N (Panglima Mangjuan Negara).
In the New Years Honours List of 1970, William was made a Commander of the British Empire (CBE) for services to banking.
In 1984, Barbara died, not long after being invited back to Malaysia to celebrate the 25th anniversary of the founding of the Central Bank.
William's daughter, Judith, after leaving school, worked in the Bank of New South Wales in Sydney. Judith married Ross Shalley in 1954.  While her father, William, and Barbara, were in Malaya, Judith and Ross moved to Melbourne and bought a house in Mount Waverley. Ross worked for himself as an agent for giftware, and Judith worked as a receptionist for a medical clinic.
James Walwyn, Roland and Edith's second son, married Gladys Eileen Hargraves, in 1933. Gladys was the daughter if Jessie Lazarus and Alfred Hargreaves of Ararat. Gladys was born in 1907, and both she and James were 26 the year they were married. James worked for the railways in Ararat for many years before moving to Burwood in Melbourne.
They had three children:
• James Roland, born in 1934;
• Beverley Joan, born in 1936; and
• Lynette Ann, born in 1941.
James, James and Gladys's son, left school to work in the Commonwealth Bank, like his uncle Bill (William Howard) but resigned when selected to attend the Army Officer Cadet School (OCS) at Portsea. He was commissioned as a Lieutenant in the Australian Army in 1956, and served with the 20th National Services Battalion at Puckapunyal.
He returned to the bank when he married Robin Phillips in 1958, thinking the Army no life for a married man. Robin, a school teacher, was born in 1934 and was the daughter of Allan Phillips, a farmer of Tatyoon, and Nellie Morris, who been a trained mothercraft nurse before marrying Allan in 1932. Jim and Robert lived in Box Hill.
Robin and James had four children:
• Christine Robin, born in 1959, who became a kindergarten teacher;
• David Andrew, born in 1961;
• Peter John, born in 1966, who started his working life as a television production assistant with a Melbourne television production house, and came a producer-director with BTV-6 Ballarat; and
• Robert James, born in 1967, who became an apprentice diesel mechanic.
Christine taught at an Aboriginal Pre-School at Angurugu, Groote Eylandt, Northern Territory, for two years, then taught at the Royal Children's Hospital, Melbourne, for a year before moving to Mordialloc and teaching at 'Elonera' Kindergarten.
She married Ian Pullman at Haileybury College, Brighton, on August 31, 1985. Christine was employed by Springvale Council as Directress of the Mobile Pre-School.
David, who initially left school to become a jackaroo in North Queensland, and later became diesel mechanic apprentice married Gayel Parfitt in Southport, Queensland in 1983.
Gayel, born in 1961, the daughter of Ray Parfitt and Helen Vievers, was employed as a governess on the same property where David was a jackaroo, when they met. David and Gayel had a daughter:
• Rebecca Helen, born in 1984, the first of a new generation of Wilcocks.
• Sarah Robin, their second daughter, was born at Southport, on August 27, 1986.
Beverley, James and Gladys's elder daughter, married Donald Blanksby in 1963, and they had one son, Donald, born 1972.
Beverley pursued a career in the Army Reserve and in the 1984 Australia Day Honours List was awarded the Order of Australia (AM) for services to the Army Reserve, having at that point the rank of Lieutenant-General. Her husband, Donald, was also a Lieutenant in the Army Reserve, and both received Reserve Force Decoration (RFD) and the Efficiency Decoration (ED) for their service ib the Army.
Lynette, the younger daughter of James and Gladys, married Maitland Neil in 1960 and had two sons:
• James, born in 1961, who completed an apprenticeship as a panel beater; and
• Marc, born in 1970.
In 1983, Maitland and Marc moved to Tin Can Bay, Queensland. In 1985, after selling the family home in Macclesfield (Vic.), which they had built of bluestone themselves, Lynette joined Maitland and Marc in Queensland.
James Neil remained in employment in Melbourne, and in July 1985, he married Valerie Eldridge, who was the daughter of James and Jenny Eldridge, of Balwyn (Vic.)
James and Val built a new house in Rowville, and moved in, late in 1985.
In January 1986, Marc returned to Melbourne to take up a position at the Yacht Shop in Oakleigh.
Later in the same year Lynette and Maitland also returned and purchased a business in Braeside. James also joined the business at Braeside.
Grace, Edith and Roland's daughter, married Fred Veitch in 1935. Fred was also in the bank: the State Savings Bank.
Fred and Garce had two daughters:
• Wendy, born in 1942, and
• Marilyn, born in 1946.
Both Wendy and MKarilyn became school teachers, and both married school teachers.
Wendy married Brian Mullins in 1965, and they had two daughters:
• Rebecca, born in 1968; and
• Claire, born in 1970.
Marilyn married Kelvin Tennant in 1968, and they had three children:
• Nicholas, born in 1970;
• Matthew, born in 1972; and
• Natalie, born in 1974.
Kelvin was teaching full-time, and Marilyn did emergency teaching.