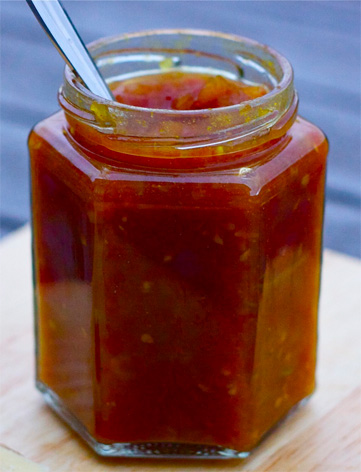 Althea Long's Tomato Relish recipe
Monday, January 15, 2018
---
My paternal grandmother, Althea Long (nee Clay), was a fine cook. She had this recipe for Tomato Relish:
4lbs ripe tomatoes
1lb onions – slice finely
1 tablespoon – curry powder
1 tablespoon – mustard
1 tablespoon – salt
1lb sugar
Vinegar
Scald tomatoes and skin
Then cut up and leave overnight in a china (preferable), glass or plastic container
Drain off the liquid – in the morning
Put tomatoes into pot, cover with vinegar, and cook to bopiling point, then boil for 20 minutes
Then add other ingredients and boil for two hours
Put into glass jars and seal.
If you want a stiffer relish, cut tomatoes in flour, also cut onions in flour.
Put in separate china dishes, pour off liquid in the morning, same as above.